Bed Bugs: they're gross, they're annoying, and they feed off of your blood while you sleep.
As a junk removal company, we help you keep your space healthy, relaxing, and beautiful. It's definitely none of those when you've got bed bugs crashing at your place so we're answering your questions about bed bugs to help you figure out if it's time to call an exterminator.
What Causes Bed Bugs?:
**Click to auto scroll by section
What Causes Bed Bugs Infestation?
A common myth about bed bugs is that an infestation is caused by uncleanliness. While bed bugs are certainly capable of living in a less-than-tidy home, dirty living conditions don't cause an infestation.
As long as they have access to their food source (that's you and me), bed bugs can live anywhere and in just about any conditions. While bed bugs are able to survive off of cats and dogs, they much prefer to feed on the blood of humans.
Bed bugs are pretty smart, actually. . . in a diabolical sort of way. Because they don't have wings and aren't able to attach themselves to a host like ticks can, bed bugs nest near their human hosts, sleeping during the day and coming out to feed at night, usually just before dawn, when they're in less danger of being crushed.
Most people think that bed bugs are only a problem in hotels and motels, but the pesky little critters have been found in places as strange as airports, office buildings, churches, police stations, and even daycares.
How do you get bed bugs?
The truth is, if and when you do face a bed bug infestation in your home, it's a waste of time to try and figure out where you got them from. Bed bugs can be brought into your house from anywhere and anyone. The following are a few of the most common ways to get bed bugs.
Your child could have picked bed bugs or bed bug eggs up from school, daycare, or a friend's house and brought them home, or your child's friend could have brought them in when they came over for a playdate.
Your guests could have brought in bed bugs with them, especially if they flew in from out of town or took the train. They could even have picked them up from an Uber or Lyft.
You could have a bed bug infestation because they came with you from work. Have your coworkers noticed that they have a rash or itchy, red bumps on their skin?
Bed bugs love to nest in furniture. So, that awesome new sofa or recliner may be the culprit, especially if you got it second-hand, like from Freecycle, Marketplace, or Craigslist, a thrift store, from a friend or relative, or from a consignment shop.
You may have brought bed bugs into your home with you from visiting a friend's house, a volunteering or charity event, traveling for business or vacation, or even from church.
How Do You Know if You Have Bed Bugs?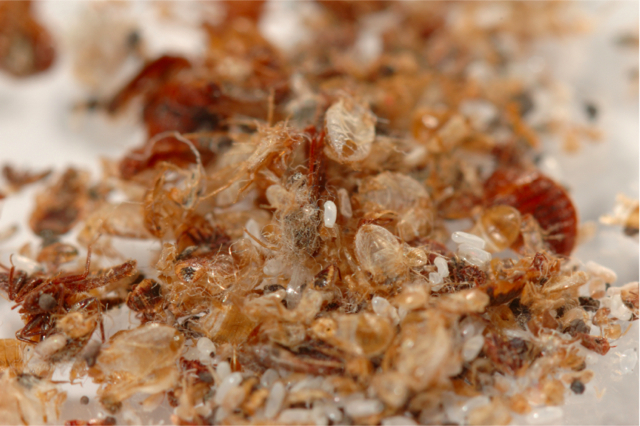 If you're asking yourself (or Alexa) this question right now, you're probably worried that you have a bed bug infestation. Your fear is a totally valid one.
While scientists say they do not transmit disease and therefore are not a public health hazard, they can cause some serious health problems, including rashes, anemia, allergic reactions, psychological distress, triggering of asthma, and even anaphylaxis.
Signs that you may have bedbugs can include:
Lesions, red spots, and intense itching are symptoms of bed bug bites.
Bed bug feces and blood spots are rust-colored and get left on your bedding when the engorged bed bugs are crushed.
A distinct odor similar to the smell of rotten raspberries can be detected when they're grouped together or crushed.
Where Do Bed Bugs Come From?
Bed bugs have been around for thousands of years. They had almost been completely killed off in the early 1940s, but they've been making a comeback since the 90s.
Resistance to pesticides and an increase in international travel have made it easier for them to spread in recent years.
It's hard to see bed bugs during the day when they're usually dormant, especially because they're small, dark, and flat. They like to nest together in places that are warm and close to a known host, such as mattresses, box springs, bedding, furniture, carpet, car upholstery, luggage, bedside clutter, and even laptops.
Because bed bugs can travel in luggage, cars, and clothes, a bed bug infestation is easily spread and difficult to contain.
This is one reason why bed bug infestations have become an increasingly common problem in homes, hotels, dorms, resorts, and other places of residence.
What Do Bed Bug Bites Look Like?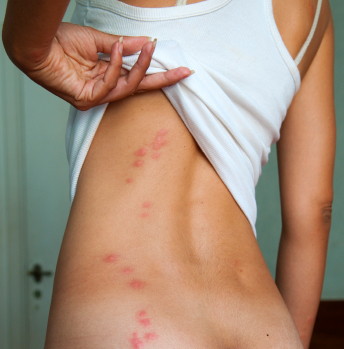 Courtesy BedBugs.org
Bed bugs usually need about 5 to 10 minutes to engorge with blood. They feed by inserting two hollow, beak-like tubes into their host which they feed through.
The first tube injects the bed bug's saliva, which acts as a blood-thinner and anesthetic to numb the feeding area so that the host doesn't wake up. The second tube draws the blood out, like a straw.
After feeding, the bed bugs move back to their hiding spots and stay there for about a week. The bed bugs don't come back out and feed during this time. Instead, they digest their meal, mate, and lay eggs.
Bed bugs prefer the exposed skin of the face, neck, ankles, and arms of a sleeping person. The sensitivity of humans to bed bug bites ranges from an extreme allergic reaction to no reaction at all.
The bed bug bite usually produces a swollen area with no red spot, but when lots of bed bugs feed on a small area, reddish spots appear on the skin after the swelling goes down.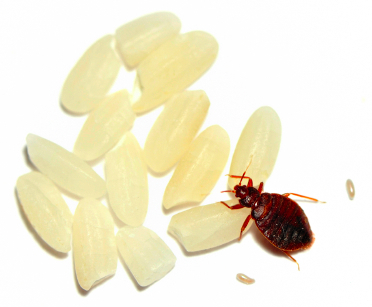 Courtesy BedBugs.org
What Do Bed Bugs Look Like?
Adult bed bugs are a reddish-brown color, flat, oval-shaped, wingless, and about 4 to 5 millimeters long (about the same size as a red ant).
Young bed bugs, called nymphs, are very difficult to see with the naked eye. They're a translucent, light tan color and become browner as they go through 5 molting stages before reaching maturity.
Bed bug eggs are very small and may look like tiny grains of rice or grains of sand.
Bed bugs are usually more red than brown just after feeding. Because bed bugs have segmented abdomens covered in microscopic hairs, they have a banded appearance. If you look closely, they appear as if they have horizontal stripes on their backs.
People often mistake bed bugs for other insects, such as lice, small cockroaches, fleas, or carpet beetles. However, other bugs can easily be mistaken for bed bugs as well.
🐞 Learn how to rule out other household bugs that look very similar to bed bugs in this blog!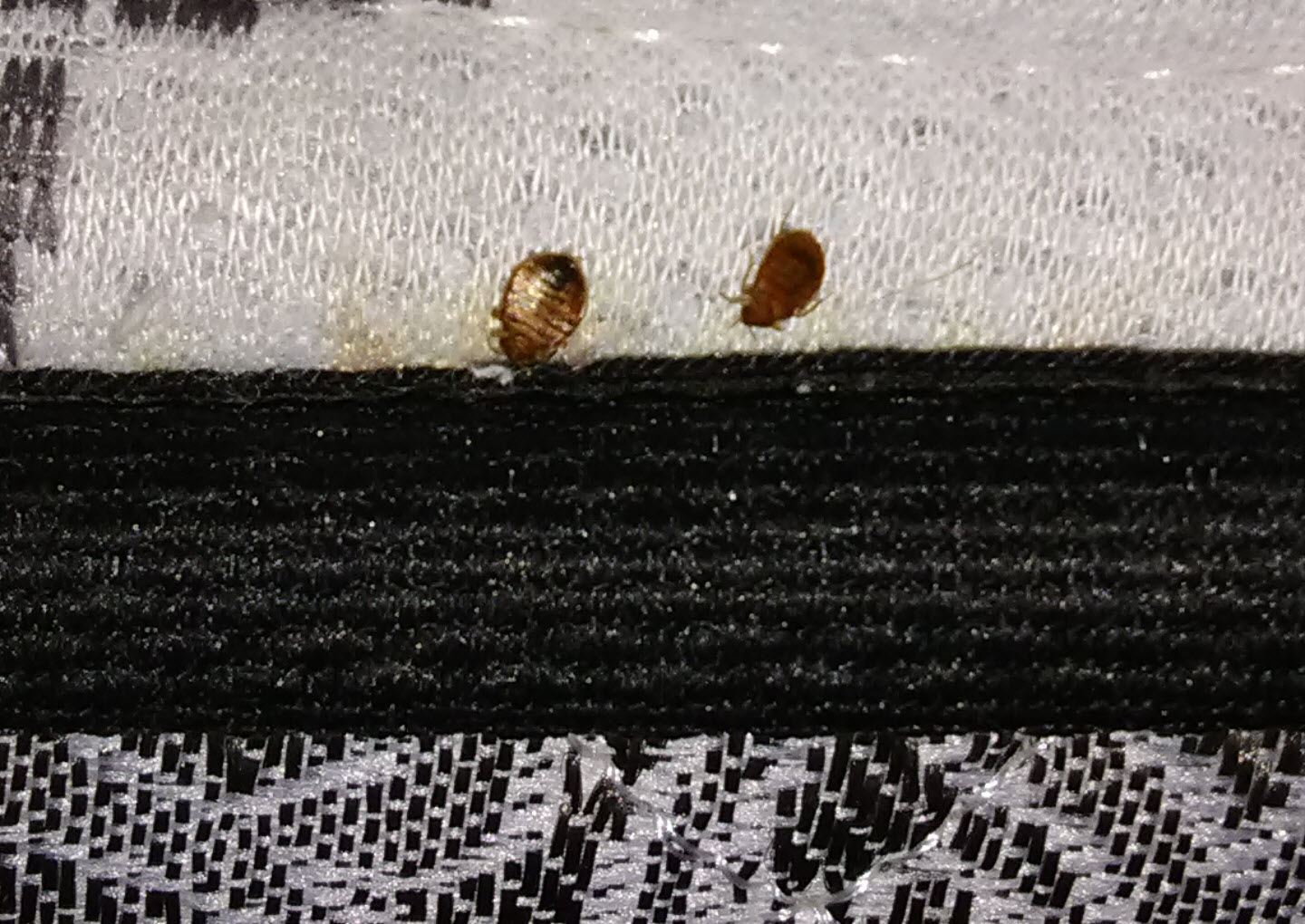 Courtesy BedBugs.org
Bed bugs give themselves away with their smell, though. When aggregating (clumped together as a group in their nest) or crushed, bed bugs have a distinct odor similar to the smell of rotten raspberries.
If you think you have found bed bugs in your home, it's important to call a pest control expert or professional exterminator right away so that they can diagnose the problem and immediately follow up with the appropriate treatment.
While we're not able to take any items that have signs of an infestation, if you have a mattress, furniture, or other junk you need to get rid of, LoadUp is your best choice for fast, easy, and affordable junk removal.
Related Articles from the Trash Talk Blog: